Should you comply with ICAO Annex 17. rules to attract new carriers and boom your airport traffic? By chance, negotiations has already stuck just because you had no BRS service at your airport?

 

With special regards to ever higher security risks, even your existing partners require BRS by now? 

 

Got offers already but they were far beyond your budget? Feeling trapped?

 

The bill for mishandled baggage and carrier complaints are getting too high? Made the decision to introduce a bar coded baggage handling system? Wish to install an automated baggage handling process and identification system but need a vendor offering at hand and affordable support and maintenance for the system, if possible from Hungary?
If you ever faced with any of the above questions, let us offer you a
cost effective and flexible CCS Hungary solution.
CCS HUNGARY BRS
is a classical BRS, Baggage Reconciliation System that makes possible the positive identification of each passenger's baggage and secure that only borded passengers' baggage loaded to the aircraft in liaison with international organizations' (
ICAO
,
IATA
) recommended practices.
Connectible by IATA standards to any DCS (departure control system) or airline reservations system, ensuring that it fits to all your partners' systems.

Functionality far beyond security issues!
Help to avoid baggage mishandling, misdirecting!
Help in proper loading order (in case of multi-leg flight or transit/transfer passenger, the baggage should be loaded last, which should be unloaded first).
BRS database also to prove "loaded" status of "somewhere lost" luggage, solving debates on "where got the baggage lost?".
CCS Hungary BRS may even help you to measure each loader's performance or to optimize the use and number of human resources and equipments (e.g. dollies) in handling.

CCS Hungary BRS includes hand held bar code reader software and baggage handling display consol software module too!  On baggage handling display consol FIDS monitor your may control real-time the process and status of baggage handling of each flight to avoid delay of flight. The screen has 3 windows, separately listing the baggage with "wait for load", "wait for unload", "unknown baggage - don't load" statuses. These lists with related information can even be printed.
Attractive? Need more information of CCS Hungary BRS
? Please
download and view the demo of CCS Hungary BRS
Why CCS Hungary BRS is the right choice? Because automatically processes passenger lists and IATA standard messages, comply with all related international regulations and requirements. Saves manpower while fast, reliable, easy to use, easy to train even less qualified users and more importantly: allow less chance to make a mistake!
How it works?
All information needed by BRS for baggage identification is coming from DCS - Departure Control System in
IATA
standard BSM, BUM messages. DCS create and send the data in messages via SITA network to BRS automatically upon baggage tag printing, baggage acceptance.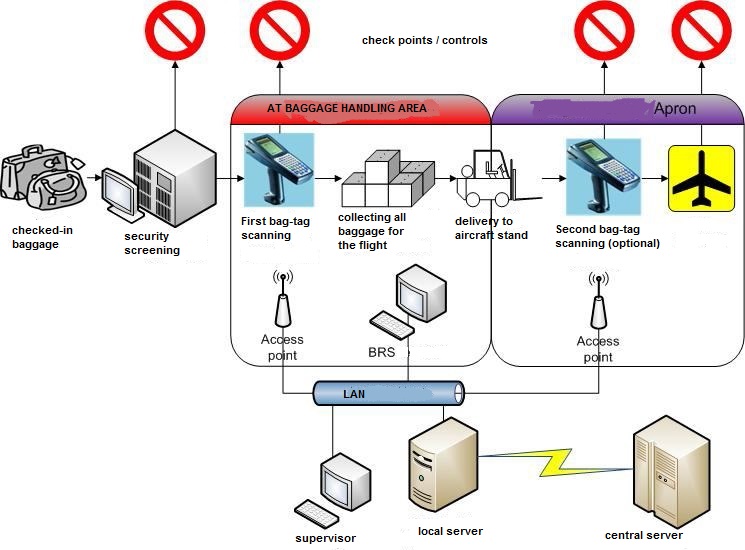 CCS Hungary BRS process these standard messages and store all information needed for positive baggage identification.
After check-in, baggage tags are scanned at baggage handling area (with hand held or gate-mounted scanners). BRS matches the scanned data to the "expected baggage" data coming from messages of DCS.
The result is displayed on the hand held scanner display: is this baggage for the flight just processed? Loadable or not?
The loader or automated baggage sorting system is instructed this way: load or put aside.
BSM message and baggage tag is created by the DCS and a one way communication is done towards BRS. BSM is the source message for BRS delivering the following data:
- Bag tag ID ("Licence Plate Code")
- Number of checked in luggage (weight optional)
- Flight number(s)
- Routing / destination
- Owner passenger data - optional
Example of BSM Baggage Source Message:
.V/1TZRH Message version,bag type, sender
.F/SR101/18APR/JFK/F Direction,Flight ID, destination,class
.N/0085123456003 bag tag number, number of bags
ENDBSM
Security
Baggage identification is done by bar-coded bag tag numbers, passenger name not recorded.
Several checks and controls are built in e.g.: if any baggage is waiting for unloading (because e.g. owner passenger offloaded or returned), flight can not be closed. All transactions are recorded in history and stored in the database.