Wish not to have noise coming from PC behind each FIDS display?

Prefer to have all computers in the air conditioned computer room?

Prefer to utilize the existing UTP cableing for FIDS monitors too?
 
Need an AODB system that is collecting all operational data at your airport than distributing among all interested and authorized parties?

Would you avoid using several non-compatible software?

Fed up with handling invoice complaints?

 

Looking for a cheap but full function FIDS-AODB solution, don't even care PC workstation behind each FIDS monitor?

 

You have no budget for investment, looking for a monthly fee based solution?

 

It is urgent, you need it up and running within a week?

 

You know that Hungarian IT products are high quality

so would you prefer a Hungarian software?
If your answer is yes to any or all the above questions,
Your next FIDS-AODB system should be CCS Hungary FIDS-AODB-BRS-INPRO system!
As any other AODB, main task of CCS Hungary FIDS-AODB system is to collect-store-distribute all operational data at an airport and to provide up to minute information to passengers, all services and companies at the airport.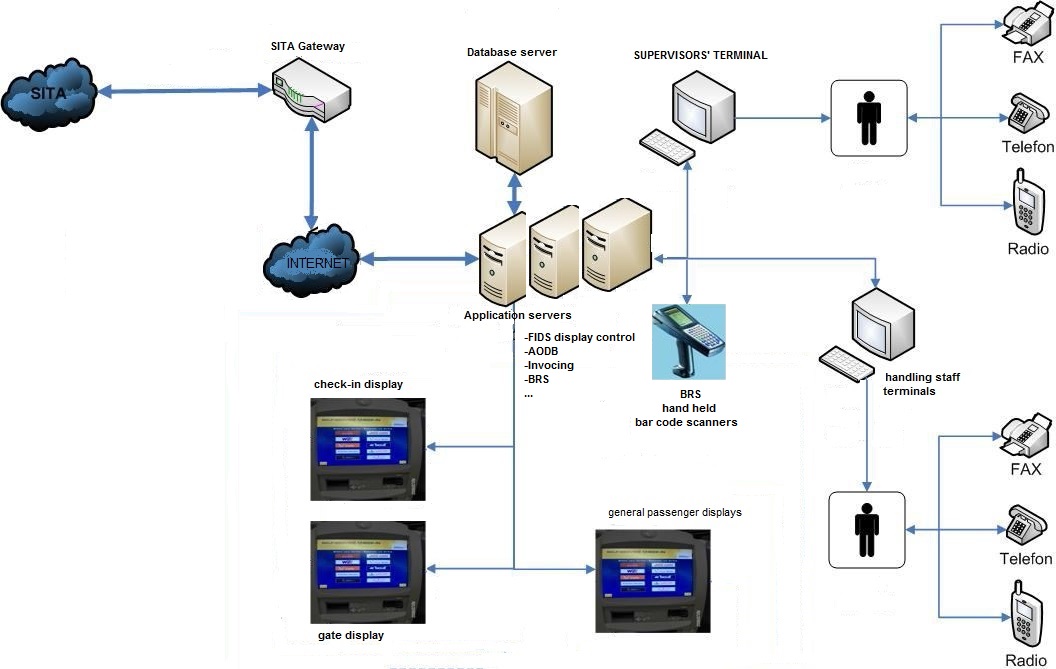 Why unique, what does CCS Hungary FIDS-AODB more than its competitors?
Among many special features, the below are the most distinguishing capabilities of CCS Hungary FIDS-AODB:
Unique, because CCS Hungary FIDS-AODB software can be installed in 2 different ways!
One system architecture option is extremely modern, nice, durable, easy to maintain, not limited by the building environment and still easy and quick to install!
Live example can be seen at Pecs (PEV) airport.
Advantages:
- No need for storage plates or boxes near to each monitor for PC workstations.
- PC workstations can be placed to the climatized server room.
- Control PC workstations can be maintained and replaced without disturbing passenger traffic.
- No risk of system failure even when high temperatures are in terminal building.
- Monitors easy to replaced, easy to expand the system.
- Nicer
Disadvantages:
Due to special data transmission technology, its a bit more expensive FIDS technology than the usual FIDS hardware.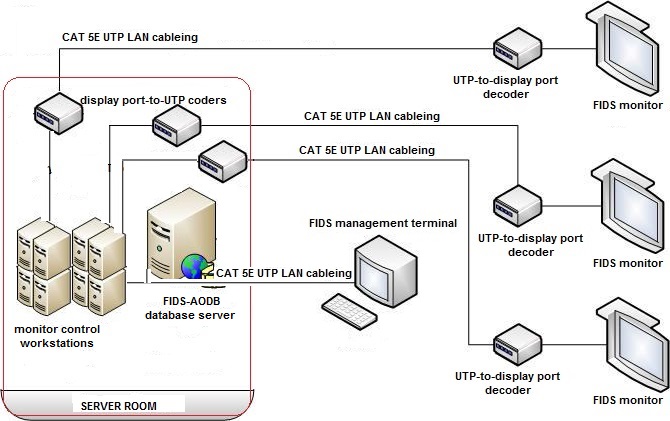 The other system architecture option is usually applied at airports, still durable and good, but needs storage plates or boxes near to each monitor for PC workstations prepared at the building.
Advantage: Cheaper.
Disadvantage: Does not have the advantages of the above system architecture.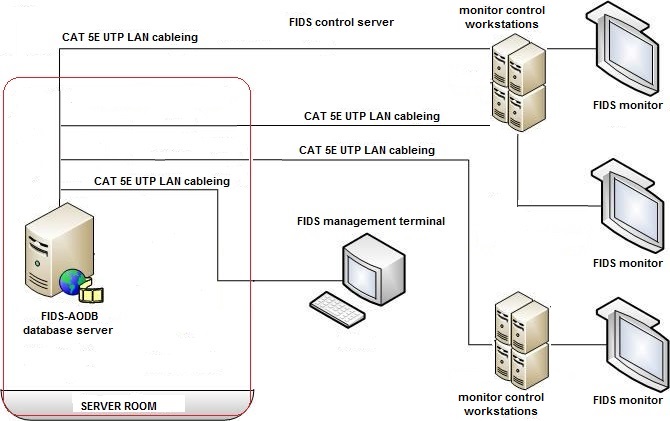 Unique because an integrated system, without interfaces, works with one common database!
A FIDS, AODB, BRS and INPRO (Financial management and invoicing) based on the common database of AODB. No interfaces between part-systems, no chance for data connection error or incompatibility of systems or data elements!
Unique because you may anytime re-configure the purpose/task of each monitor!
Each FIDS monitor may be anytime re-configured for a different purpose. E.g. if check-in counter is closed or no arrival flights, those monitors can be used for paid advertisement movies or to display main partner airline's logo. The following function types available in CCS Hungary FIDS for each monitor:
· Arrivals
· Departures
· Arrivals and Departures
· One flight for check-in or gate
· Screensaver
· Logo
· Movie
and this is a screen example of CCS Hungary FIDS system management software: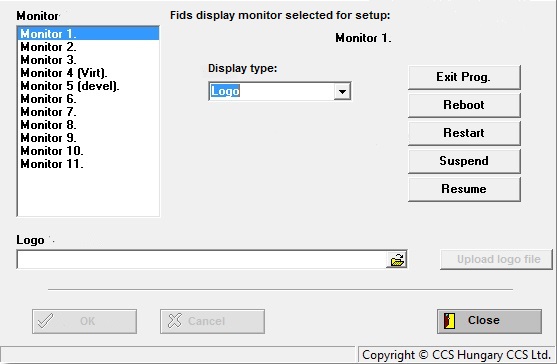 Interesting, attractive? Would you like to know more about FIDS-AODB? Please view this
CCS HUNGARY FIDS-AODB demo

Main modules of CCS Hungary AODB:
    Scheduling
    FIDS
    Invoicing
    Statistics
    Data manipulator
    User handling
    Archives
Thanks to the fact, that FIDS, BRS, Financial and AODB functions are in one integrated system:

- no redundancies, data- and database optimized, information exchange is quicker and more secure
- satisfies Collaborative Decision Making (CDM) standards
- all airport systems are synchronized thanks to common basic (e.g. schedules, arrival time) data coming from AODB
- thanks to data redundancy, less chance for complaints for incorrect data (e.g. invoice not accepted due to arrival time of the flight is different in invoice issuing and in receiving system)
- each piece of information entered at its origin or by the one who know it best
- modular, so easy and cheap to add new functionality
- either development or maintenance, it can be done without stopping the whole system - no chance of data loss or operational problem
- cheap and easy to interface to partners' systems
- information, the fuel of all intelligent systems, is high quality
- selective information display to satisfy the needs of different users
- young enough to meet the requirements of XXI. century while having several years of operational practice
 
CCS Hungary AODB information is:

Original: While data handling and transformation is unavoidable, original information in it original form is always stored and available.
Data protection: Proper protection against accidental or intentional accesss by unauthorized persons.
Security: Guaranty for the data owner that information is only used for the intended purpose.
Trustable: Guaranty for the data user that information is taken from the right source, legal and quality controlled.
Accessible: Available when needed.
Handy: Easy access, ready for further processing.
Searchable: Easy to find the piece of information in question.
Archives ready: Structure of information is suitable for secure archiving.