Did you notice it? Either the label printer hardware or the material is expensive for the label printer - this or that way, printing labels costs a lot! ...except with CCS Hungary LabelPrinter!

Would you like to have as many label printers as many office laserjet printers you have, to be sure you always have a label printer?

Wish to avoid the cost of programming your label printer to print your own logo and house airwaybill labels and to print MAWB labels by IATA standards?
CCS Hungary LabelPrinter is the perfect solution!
IATA standard bar coded cargo label printing without a special printer and material, on any of your regular office laserjet printers: cheap and easy solution.
CCS Hungary Bar Coded Label Printer system (CCS Hungary LabelPrinter) as a stand alone product or a module of CCS Hungary AWB and CCS Hungary BACH - which can print labels by IATA standard (IATA RESOLUTION 606) and in the same time can print you HAWB labels with your logo.
Shipments may disappear or be late without bar coded labels, as at big airports the identification is automatic and done by barcode. We found the solution, which does not require a special, extremely expensive label printer hardware and expensive strip or preprinted material. The offered system can print on any average quality office laser printer. The material is the laser printer self adhesive label - sold in shops - scratched for 4 or 6 labels. on a DIN A4 sheet. Several leader airways accepted this software.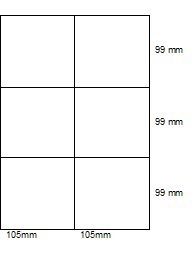 Would You like to see the system in work? Just download the DEMO version of LabelPrinter!
The demo is a full function software with one restriction: whatever is entered as air waybill number, on the printout 182-12345678 will appear and the barcode will be fake as well.
Although CCS Hungary LabelPrinter is continuously developed thanks to the continuous demand, its price remain the same since 1988!

The first copy is EUR 94 / client (+ plus VAT if applicable)
The second and all subsequent copies, anytime later you buy: EUR 69 / client (+ plus VAT if applicable)
 
...and you may buy the material (A4 size self adhesive plain paper, split into six boxes) in any stationery shop but also from CCS Hungary on a very special price - click here for more details!

This is how the easy to use user interface looks like: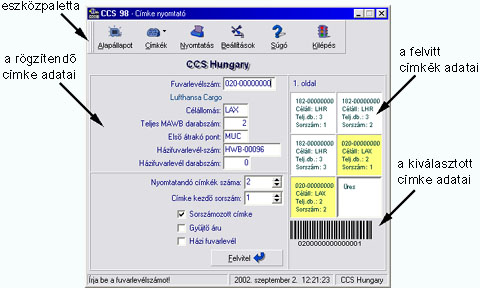 Any question? Get in touch with us - click here for contacts!
Unique advantages of LabelPrinter - the reason why it is used all over the world:
no need for special hardware - print on your office laserjet printer
even in case of stand alone use (without CCS Hungary AWB forwarder system) LabelPrinter checks the MAWB number you entered by check digit and the validity of city/airport codes entered, to avoid fatal mistakes
with CCS Hungary AWB or CCS Hungary BACH the printing is right from the AWB entry screen - no need to enter data manually
HAWB labels can be printed too
to change language, just click on the proper flag
on line help system - on the selected language
to save label material, you may print multiple AWBs' labels on the same A/4 sheet